In partnership with Chesterfield County Parks and Recreation, Sportable Flatwater Kayaking encourages physical fitness, nature exploration, and adventure.
Adaptive kayaking is one of Sportable's most inclusive sports as kayaks can be adapted for a variety of physical disabilities using state-of-the-art equipment such as paddle pivots that allow one-arm control of the kayak and adaptations for wrist grips and seat position.
Kayakers benefit from being on the water and fully-immersed in nature while enjoying one of Richmond's most popular destinations, the James River.
The program will provide individuals and military veterans with physical disabilities, visual impairments, Post-Traumatic Stress Disorder (PTSD), Traumatic Brain Injury (TBI), and other health related issues with the opportunity to learn the basics of kayaking alongside the region's most experienced staff.
The Flatwater program is open to those ages 14 and up.
There is a weight capacity of 250lbs for the boats that are used at this program.
Athletes MUST meet the following Essential Eligibility Criteria:
1.      Breathe independently (i.e., not require medical devices to sustain breathing)
2.      Independently maintain sealed airway passages while under water
3.      Independently hold head upright without neck / head support
4.      Manage personal care independently or with assistance of a companion
5.      Manage personal mobility independently or with a reasonable amount of assistance
6.      Follow instructions and effectively communicate independently or with assistance of a companion
7.      Independently turn from face-down to face-up and remain floating face up while wearing a properly fitted life jacket
Thursday, May 4 – Dutch Gap Conservation Area - 251 Henricus Park Rd Chester, VA 23836

Thursday, May 18 – Dutch Bottom - 9525 Deep Bottom Road Henrico, VA 23231

Time: 6:00-8:00 pm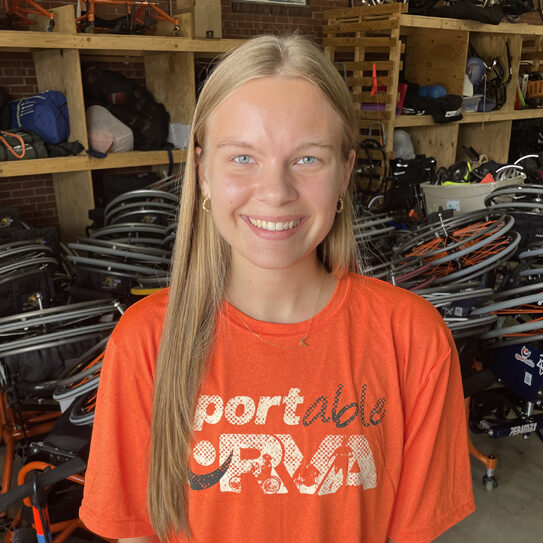 Michelle Page
Program Operations Coordinator
Kayaking with Sportable allows me to get out into nature, something that can be extremely difficult for a wheelchair user. Once I'm in a kayak, I can explore all that the James River has to offer while getting a great workout.